www.paloddistributors.com Review:
Palod Distributors
- NST India developed the website and online marketing for the Pharmacy & Parle Products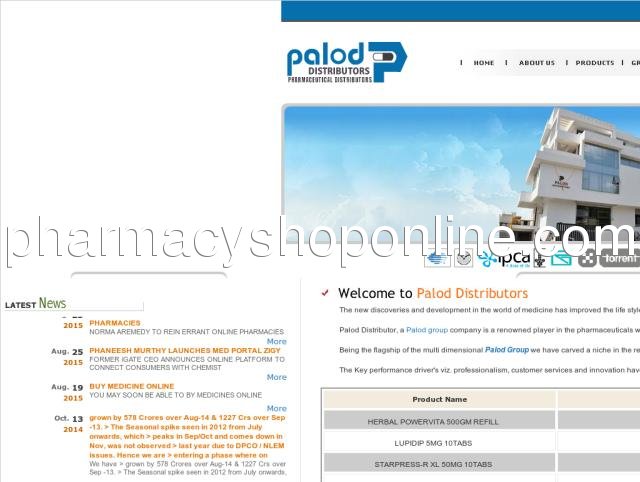 ---
Country: 203.124.105.122, Asia, SG
City: 103.8565 Central Singapore Community Development Council, Singapore
Wanda Quintanilla - great purchase

Brand new, better than expected. arrived on time, and I don't regret buying it rather than renting. I recommend it
JayeemMuggs - Cole Under Pressure.

Finally The closest J.Cole well get since the Warm up. This whole album was definitely a return to his roots and he did not disappoint.
LAWJR3 - It works, but read the instructions carefully!

I dedicated a solid 5 hours to using this product. Draining the radiator isn't easy sometimes and running a flush can take some time too, especially if your car is overheating. A mechanic told me to replace the thermostat while I was at it. In the end, my car doesn't blow white smoke anymore and it doesn't overheat. It's been a week. I will post an update if it stops working soon.
Atusa J. Stoehr - Does exactly as advertised on TV

Does exactly as advertised. Could be a little cheaper in price, but well worth it. I am enjoying having to not worry about a clogged tub drain. It is so easy to clean, and it does a great job in catching loose hairs. Thank you to the company that made this product, a job well done. Thanks Amazon for great Service and fast shipping.
joyce d. - Gives my Jeep a dressed up look....

This product was a PERFECT color match for my Jeep Cherokee Latitude, Brilliant Black Pearl, and my friend at the body shop applied the
Kate H. Oleary - scammy company with questionable products

I was a victim of consumer fraud at the newly opened Orogold store in the Gardenstate Plaza mall in Paramus, NJ. Although I have now disputed the charges with my credit card, I want the warning to go out there to all consumers in New Jersey and all around the country to avoid this compamy at all costs! They are a bunch of slick con artists who have absolutely no regard for doing business in a legal or ethical way. Last week., I was at the mall buying something I had planned on getting for my upcoming birthday and I was in a relaxed and unguarded mood when I was approached by this man with an accent. He spoke to me as if he was my friend which I did not buy into but my defenses were down and I agreed to let him apply eye serum to my one eye. He went into his whole schpiel and even though I kept saying no, he kept saying how the product was not that expensive considering it would last for 2 years. I hesitated and he then asked me if I was a nurse.I said no and he looked at me knowingly and said, "Answer me again. Are you a nurse?" I said no again and he shook his head and said, "Come on. Are you a nurse?" So I kind of laughed and said yes because obviously he wanted me to play along. Then the product was 1/2 priced. So I agree to give it a try, thinking that I had gotten a decent price even though it was still kind of pricey. Then he was continuing to chat me up and saying I should come into their newly opened store so he could give me some more samples. So I reluctantly followed him into the store. There he had me sit and he examined my face very closely. He offered me first some water and then shook his head and suggested champagne since it was my birthday month. I laughed nervously and shrugged. He then gave me another schpiel how he was going to apply treatment to half of my face so I could see how well their other products work. I protested that I defintely could not spend any more money that day. He shushed me and started applying treatment to the right side of my face. At tis point, I was a little worried because I had an appointment in an hour and I wanted to get a bite to eat before I went. But he had already applied things to my face and had put a glass of champagne in my hand. Then he whisked me to the back, saying it was free there now and I could lay on the table and relax for a few minutes while the mask on my face did its magic. He then talked of Denise Richards who endorses them and said Dr. Oz recommends their products (an out and out lie). All the while still talking to me as if I was a long time friend. When he took the treatment off my face, he gave me a mirror and was positively glowing about how incredibly better the right side of my face looked than the left! My head was a little light from the champagne since I had not yet had lunch and I agreed with him because it did look better. Then he told me the price of the package he put on me and my jaw dropped. No, I can't! He protested, did I not like the product. I said I liked it just fine but I had to go and I couldn't afford to spend that kind of money. He was then going, "What would you rate it?" I said, "Maybe an 8″ because at that moment I was impressed. He insisted hat he really wanted me to use their product so he would bring down the price and he proceeded to cut the price in half. It was still too steep and I said no. Then he whispered in my ear, "I'm not supposed to do this but I really like you and I want you to use our product because I know you will have good results and you will tell all your friends. But please do not tell anyone you got it for this price." He then took a card and scanned it thru the machine and claimed it was his employee card for an employee discount. The price was now about 1/3. He then said he would minus the price I had already paid for the eye treatments I had already purchased. It was still too much money. but I was late and now I was a little torn. I thought to myself, "Maybe I'll take it home and think about it. I could always return it." Those were the thoughts in my head so I agreed and he took my card. My heart was thumping because I had just spent $1000 on skin products. Yes, maybe it was for 1 year or more but still, it was alot of money. Already I was starting to feel some buyers remorse but I was in a rush and after posing for a picture with them, feeling like I was in shock, I left.
Mom of Two - I love this with my Flip Belt

I love this with my Flip Belt. It stays in place. It is not cumbersome or uncomfortable when running.