www.youngmarines.com Review:
YM Home | Young Marines
- The Young Marines is a national non-profit 501c(3) youth education and service program for boys and girls, age eight through the completion of high school. The Young Marines promotes the mental, moral and physical development of its members. The program focuses on teaching the values of leadership, teamwork and self-discipline, so its members can live and promote a healthy, drug-free lifestyle.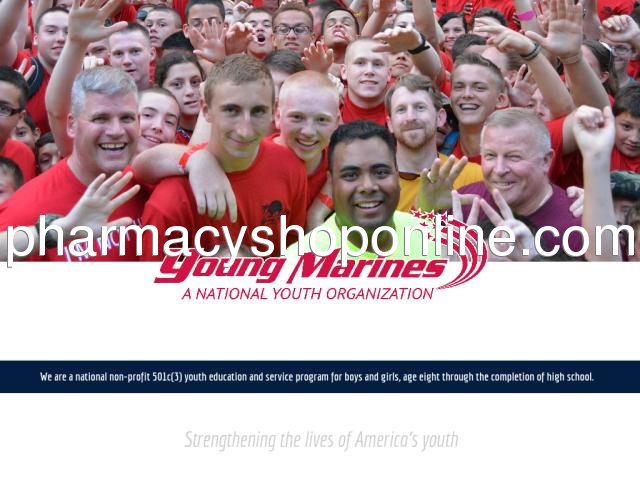 https://www.youngmarines.com/what-we-do.html What We Do | Young Marines - What Young Marines do is Drug Demand Reduction, Veterans Appreciation, Training and Summer programs
https://www.youngmarines.com/join.html Join | Young Marines - Having fun while learning. It is the key ingredient! Young Marines is open to all youths ages 8 through 18 or completion of high school; whichever comes last. Membership requirements are - youth must be in good standing in school and no criminal history.
https://www.youngmarines.com/volunteer.html Volunteer | Young Marines - Young Marines units are community-based programs lead by dedicated Registered Adult Volunteers. Become an Adult Volunteer today.
https://www.youngmarines.com/donate.html Donate | Young Marines - Donate to the Young Marines to help strengthen the lives of America's youth. No matter the size of your budget, you can make a difference by providing financial support to guarantee the quality of leaders in future generations
https://www.youngmarines.com/news.html News | Young Marines - the Young Marines in the news with the Esprit Magazine, Young Marines News Network, and Press Releases. Learn about the Young Marines
https://www.youngmarines.com/find-a-unit.html Find a Unit | Young Marines - find a Young Marines unit near you by by entering your zip code and clicking the Search button on this page
---
Country: 68.171.146.100, North America, US
City: -71.5506 Massachusetts, United States
adam - Worst Banana Caddy EVER!

I bought this banana caddy to transport my banana for lunch. EVERY DAY LAST WEEK i went for my banana and it was gone. EMPTY! Then I find little round bananas all over my string cheese and juicebox!!! Is this some kind of sick joke?!
No peas please - WORTH NO STARS

Is it just me, or is everything having to do with Windows computers just getting worse? The new Microsoft Publisher 2013 (I have the subscription) is CRAP. My job is to make newsletters--one version in color for web subscribers, one in black and white for commercial printing. The new Publisher does not let you choose single, spot, process, or CMYK. It's just RGB, that's all you get. Now I have to sit here and turn everything that is in color to black and white by hand. Under design checker, supposedly there is a commercial printing option where you can change the color in one fell swoop--but my version has no COMMERCIAL PRINTING option for some reason. I called Microsoft. Support said, it should be there, yup. But it isn't, and they don't know why. They finally went home to have dinner. I have a brand new Dell, Windows 8, and a subscription for Office 365---I might as well have saved my money and kept using my seven year old half dead Vista machine....takes about the same amount of time to get anything done.